Fighter Interview With Chaleur Jones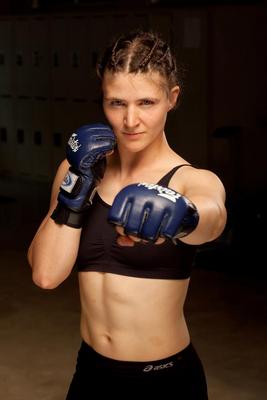 Name: Chaleur Jones
Age: 32
Location: Calgary Alberta Canada
Gym: Dynamic MMA
Weight Class: Flyweight and Strawweight
Pro/Ammy: Pro
For those of our readers who don't know a great deal about you, please write a short bio. Grew up doing ballet and playing sports and running around outside having pretend battles. Moved to Calgary, which is now home, at 19. I live with two black snuggly cats, and I still dance in the rain.
Have you been involved in any sports other than martial arts? Oh yes! Baseball was my first love, but no opportunities where I grew up. I've gotten good at baseball, softball, tennis, and running. FEMA weapons sparring is an occasional hobby now.
How did you get involved in MMA? I was looking for a way to train all the time, and still maybe make a living.
I saw the sport after years of hearing whispers about it, and went, That, that's how I'm gonna LIVE!
What is the status of your MMA journey and where do you see it leading? I'm just hitting on a well polished stride. If I can keep winning and keep improving, there's no limit. Last year I had five pro fights! Not a likely or easy thing for most women before me. Life is really taking off and I'm excited to see its path unfold.
I always say I see it heading straight to the top!
Tell us a bit about your life outside the cage. My work, and life are based on community and network building. I work at a small, pet supply business, and run Insane Chainsaw Fitness. I play around the arts, gaming and medieval weapons communities.
Do you currently have a nickname in this sport? If so, what is it and why? I am the Chainsaw. Why? I chose this as representative of my brand which is positive brutality. Also, thinking Texas Chainsaw massacre seemed like great imagery for a fighter. The bloody spray off a Chainsaw in flesh is exactly the image I'm going for.
What is your record and do you have any impending fights? I'm 2-3 pro, have fought mostly the top women in Western Canada, and will be fighting next on the Calgary Super Fight League card, January 23, 2016.
If you could offer one bit of advice to an aspiring fighter what would it be? Practice, its all just practice. It gets frustrating, that's temporary. Do what you love in life. If you love training, this is for you. Eat right, Live right, and run.
Would you like to give a shout out to any sponsors or individuals who have supported you? Oh yeah!
Kira and Vince, and all the awesome people at Dynamic who've helped me get this far, and beyond!
Calgary Meats and Deli,
Dark Age Creations,
Rumble House,
MXV Integrated Fitness,
Rhean Murray,
Is there anything you'd like to add? Live like your life depends on it!
Facebook Page/Fan Page: Fanpage
Twitter: Click Here
Instagram: Click Here
Manager Contact (for sponsorship/fight inquiries): Vince Gentile
Email Address: Click Here
Check out WMMA NEWS FACEBOOK PAGE the precise website for all in wmma from around the world http://ow.ly/wWKTc
(6)