Hi Kelly,
How have you been? Long time no hear?
Hi Frank! Things have been great for me, especially the last couple years as I've been slowly building up for this comeback fight.
We have not talked since our last interview back in 2008, but we do have a little contact on Facebook How is social media treating you?
I took a little Social Media hiatus for a few years and have just recently begun to get back into it. Social media can be tough for some fighters. There are a lot of backseat drivers who want to offer unsolicited advice and criticism. After re-arraigning my perspective and focusing my time and energy on the positive fans I've just jumped back into the twitter, Instagram, and Facebook world. Hey everyone- find and like my Facebook athlete page, and follow me on Instagram and twitter! You can find me by my name Kelly kobold! I'm sharing lots of fun training stories, events, videos and photos.
What have you been doing since your last fight?
For the last 7 years my husband, Pedro Saur Black Belt, Tom Schmitz and I have been running Spartan Martial Arts in Oakdale, MN. A gym dedicated to fitness, muay thai, BJJ, and mixed martial arts. While Tom works with an impressive lineup of male competitors, my real passion has been building Spartan's ladies team! We have a large group of dedicated and tough women of all ages, athletic abilities, and experience levels. And boy has their dedication paid off! Over the past few years we've see our women's program blossom in to a force to a be reckoned with! We have MMA fighters, muay thai fighters, and jiu jitsu competitors all finding a lot of success at the local and regional level. The next step for the "Lethal Ladies" will be to break out onto the national scene. My upcoming fight with Christine Stanley at LFA 20 will go a long way towards making that happen, as will the upcoming pro debut of Akeela Al-Hameed, and Jordan Niccelatti's 3 River Shown Down title defense! If you don't know these names yet, you will soon!
This fight coming up for LFA how excited are you?
I am ecstatic to be steeping back into the cage! Couldn't be more excited! There's a lot riding on this fight. I see this fight as not only a comeback for my own career but also as a way to show the world what Spartan Martial Arts has to offer!
In the past, you fought at Bantamweight/ Featherweight, you are fighting at Flyweight now, how is the transition to lower weight class, are you staying at that weight class?
125lbs is where I need to be. It's what my height and bone structure is built for. I feel strong, fast, and healthy at this weight. (A little hangry too) In the past I struggled with diet, nutrition, and consistency in the gym. That certainly helped contribute to my fighting at a higher weight class than my frame is built for. But, so did the lack of opportunity. Back in my heyday as a woman- you took whatever fight you could get regardless of the weight class if there even was one. Back in the early 2000's I was on a couple highly publicized shows that didn't even bother having the ladies weigh in.
What do you think about the evolution of women in mixed martial arts?
The women have come a long way in the past 10 years! Faster, more aggressive, more technical, and many are coming to mma with years of complimentary sports experience like wrestling, boxing or Judo. This means I can't be the bully brawler that I've been known for in previous fights. I have to strategize and game plan differently.  But I'm very excited for the challenges this new era of the sport has to offer!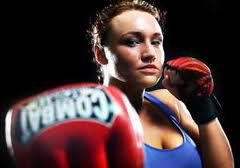 This is your comeback fight, what is your ambition? Are you working your way back to Invicta or the UFC?
I'm just now hitting my peak with the training, life, and maturity trifecta. I have a few more good years left in me as a fighter and I want to take it as far as I can. Whichever promotion can offer me a platform to showcase my skills and grow as an athlete will have my loyalty!
Have you been involved in any other sports besides MMA?
I've always been athletic. In high School, I ran track and cross country, threw shotput and swam. Once I was out of high school I went to a technical college that didn't offer sports. I had to find something to combat the freshman 15 and MMA was it.
Would you like to give a shout out to any sponsors?
MMA is community and for a fighter to be successful their community has to rally behind them. I've been very blessed in that regard! I must offer a huge thank you to;
Spartan Martial Arts, Dr. Howard Fiddler, Elite Sports, MAPerformance, Performance Welding Inc, Cook St. Paul, Sushi Tango, SEG, and Mr. Mouth Guards.
Is there anything you like to add or shout out to the fans?
Many of you might not know me or remember me- yet. Win, lose, or draw I promise to deliver an exciting aggressive fight!
Kelly is scheduled to fight Christine Stanley at LFA 20 on Aug, 25th at the Mystic Lake Casino Hotel in her home state of Minnesota.
Check out Kelly Kobold at SGS Radio Podcast back in 2008 SportsGeeks™Featuring Kelly Kobold we were one of the very first shows that started interviewing fighters and it was a blast!
(159)