ICYMI: WMMA Fighters Most Tested by USADA in 2016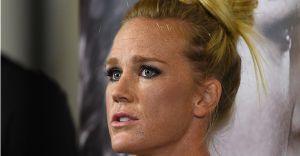 A list of the most tested fighters under USADA has been released courtesy of the USADA website. Over the course of the year, 586 UFC fighters were tested for a total of 2291 drug tests.
Fighters who were tested 10 times over the course of 2016 include:
Holly Holm
Fighters who were tested 11 times over the course of 2016 include:
bantamweight champion Amanda Nunes
Cris Cyborg
Fighters who were tested 12 times over the course of 2016 include:
former UFC women's bantamweight champion Miesha Tate.
What does everyone think, as you can tell Cyborg was caught during one of those test and the other fighters all passed.
Can Cyborg really be that clean? After being caught twice now can she really say that her career is ruined by media and people, she's already being characterized as a cheater? How can you trust a fighter that cheats to get ahead, it has been said "once a cheater always cheater right?" One of the things on this last test that Cyborg got busted for, she never put on the form the prescribed meds by a "MEDICAL DOCTOR" which on the form clearly states that, are you taking any medications that will effect the outcome of the test, right? Yes she did not disclose that; she was medication since her last weight cut almost drained the life out of her before the last fight card. There is no way you can trust her if she even lies on a form that the USADA provides for you before a test how can you? Rant over!
Source: Fighters most tested by USADA in 2016
(4)